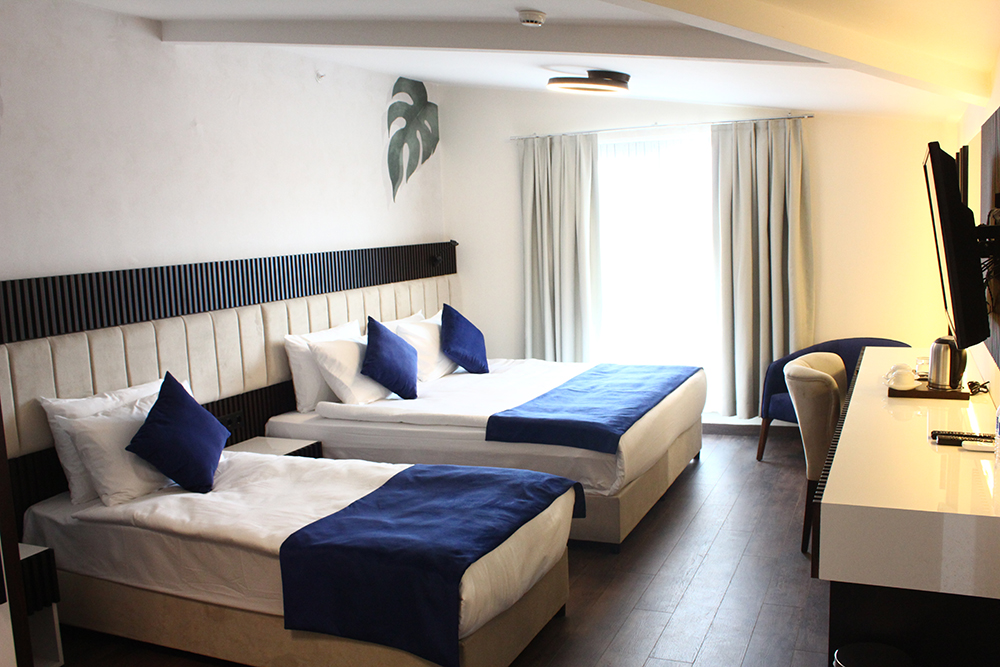 Reservation is required.
Breakfast hours are from 07:00 to 10:30.
For further information and reservations please call 0224 440 0 804.
Children 0-6 years old are free of charge. Children over 7 years of age can get information from the business.
The change of the booking date will be made according to availability.
Cancellations and changes must be notified at least 2 days in advance. Otherwise, the opportunity codes will be counted.
Don't forget to request a voucher or invoice for service.
Anti allergic bedding
Bathrobe
Access to external corridors
Digital TV service
Electric water heater
Daily housekeeping
Towel
Light / noise / heat-sealed curtains
Quality TV channels
Air conditioning
LED TV
Table
Mini bar
In-room safe
Air conditioning control in room (heating)
Room service (24 hours)
Private bathroom
Hair dryer
Shower Only
Soundproofed rooms
Telephone
Slipper
Free toiletries
Free cribs / infant beds
Free Wireless Internet
Free sachet tea / granule coffee
Free bottle of water
Iron / ironing board (on request)
Pillow menu
Odalar
Aile odaları
Ara kapılı odalar
Anti-Alerjik odalar
Ses geçirmeyen odalar
Vip odalar
Sigara içilmeyen odalar
Temizlik Hizmetleri
Günlük temizlik hizmeti
Kuru temizleme
Çamaşırhane
Ütü hizmeti
Sağlık
Hastaneye kolay ulaşım (15 dakika)
Resepsiyon Hizmetleri
24 saat açık resepsiyon
Emanet kasası
Konsiyerj hizmeti
Bagaj muhafazası
Gazeteler
Döviz alım/satım
Hızlı check-in/check-out
Vale park hizmeti
Ulaşım
Araba kiralama
Havaalanı servisi (ücretli)
Transfer servisi (ücretli)
Uludağ Üniversitesi (23-dakika yürüme mesafesinde)
Nilüfer Organize Sanayi Bölgesi (7,5 km)
Korupark AVM (10 km)
Buzz Park (11,5 km)
Gölyazı (Apollonia) Ağlayan Çınar 15 km uzaklıktadır.
Uluabat Gölü (22,7 km)
Fuar Merkezi Uzaklığı 25 dk
Ulucami 25 dk.
Teleferik 30 dk.
Uludağ milli park 47 dk.
Sabiha Gökçen Havalimanı 1 saat 17 dk.
Bebek
Bebek karyolası
Restoranda bebek sandalyesi
Ortak Alanlar
Mescit
Tv odası
Asansör
Konferas salonu
Toplantı odası
Yiyecek & İçecek
Lobby Bar
Restoran
Restoran (Açık Büfe)
Odaya yemek servisi
Engelli
Ana kapı giriş düz ayaktır
Engelli rampası
Çalışma Alanları
Faks/fotokopi
Scanner
Business center
Printer